Ningbo-Zhoushan Port Main Channel Project co-built by CSCEC opens to traffic
Pubtime:12.01.2022

【Font size:

Big

Mid

Small

】Print
After four years of construction, the Zhoushan-Daishan Cross-Sea Bridge has opened to traffic recently. CSCEC participated in the construction of the project. The Zhoushan-Daishan Cross-Sea Bridge No. 2 contract has a total length of 9.514 kilometers, including 5.345 kilometers of main road and 4.169 kilometers of offshore interconnected ramp. The opening of the bridge introduced expressway into Daishan County for the first time in history, indicating that every county in Zhejiang Province now had access to highways. It also injected new development impetus into the urban development and industrial upgrading of the islands in the region.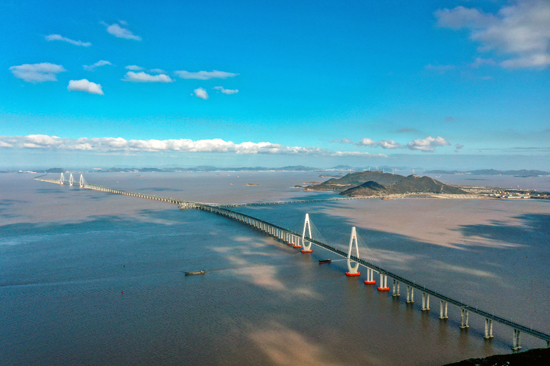 With the opening of the bridge, the Ningbo-Zhoushan Port Main Channel project co-built by CSCEC has also been completed and opened to traffic.
The Ningbo Zhoushan Port Main Channel project, located in the northeast part of Zhejiang Province, is a major strategic project of the 21st Century Maritime Silk Road. With a total construction mileage of 83 kilometers, the project, covers eight islands with ten bridges, and connects Zhoudai Bridge, Yushan Bridge, Fuchimen Bridge and Zhoushan Cross-sea Bridge. It is the longest expressway that links islands and the largest cross-sea bridge group in China.