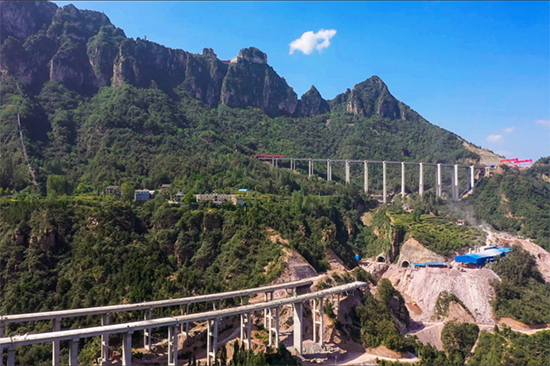 Recently, the world's longest spiral tunnel, the Hankou Tunnel of the Xinxiang-Jincheng Expressway, built by CSCEC, was opened to traffic, marking the official opening of the Xinxiang-Jincheng Expressway. In the future, the journey from Jincheng, Shanxi to Xinxiang, Henan will be reduced from over three hours to just over an hour.
The expressway passes through the Taihang Mountains, forming a 28-kilometer spiral tunnel group. The elevation of the Hankou Tunnel ranges from 784 to 893 meters, with a maximum relative height difference of 109.342 meters between the entrance and exit. The left line is 4,457 meters long, while the right line is 4,366 meters long.
During construction, the CSCEC team innovatively applied "BIM+" technology to make construction safer, more efficient, and more precise, enhancing the intelligent level of tunnel engineering.
BIM+ Geological Information
The rock formation inside the Hankou Tunnel is complex, prone to collapses, karst formations, and rock bursts. The project team used survey data to generate geological cross-section models for easy risk prediction.
BIM+ IoT
Cameras were installed at the tunnel entrances, inside the tunnel, and on construction platforms, enabling efficient problem detection through video monitoring. A anti-collision warning system for bogie was also developed to protect both builders and equipment effectively.
BIM+ Engineering Calculation
This system automatically calculated the required amount of rebar and concrete for each segment of the project. Identification codes were assigned to materials in each batch, enabling prompt tracing of any issues and minimizing losses. Additionally, various sensors were set up at the tunnel construction site, collecting real-time data on ground settlement, arch subsidence, etc., which were then analyzed through "BIM+" for early warning.