With the completion of the last section of steel beam hoisting, the main structure of the Cultural Center in Shenzhen International Bio-Valley built by CSCEC was officially topped off recently.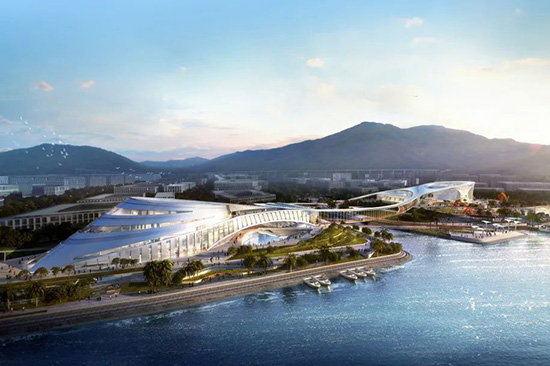 The project is located in the Shenzhen International Bio-Valley in the Baguang area, surrounded by blue water on three sides, with a total construction area of approximately 43,000 square meters.
The main structure of the project has a saddle-shaped arch shell steel structure, with a hyperbolic curtain wall and a metal roofing structure for the facade. The total amount of steel used is 7,800 tonnes and the node connections are complicated, especially since the central part of the building is a saddle-shaped space grid structure with a maximum span of 110 meters.
The project used Tekla to simulate the stress and deformation state of each construction step, monitored and controlled each key section, key component and key part in real-time, and controlled crucial processes such as machining, installation and welding of deformed steel structures, thus improving the construction quality of complex steel structures with large spans.
The exterior curtain wall of the project adopts large insulating glass to introduce more natural light while also to reach 30 decibels of soundproofing; the outdoor landscape employs a low elevation greenbelt with reasonable articulation to guide rainwater into the ecological facilities on the ground, fully creating a spotlight on the mountain-sea axis and aerial perspective.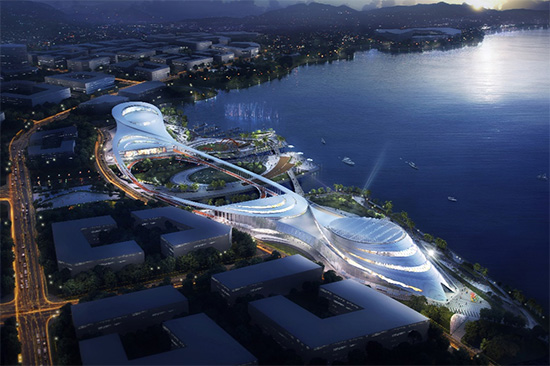 The project has been awarded the "Shenzhen Architectural Design Award", "iF Design Award 2021", "A'Design Award 2022, Best Design Award at China Best Design Works Exhibition", "MUSE Design Awards 2022 (Gold Award)" and other awards and honors.