Recently, the China-ASEAN Construction Cooperation and Development Forum and High Quality Living Environment Exhibition were held in Nanning of Guangxi Zhuang Autonomous Region. The forum and the exhibition provided an important platform for exchange and cooperation between China and ASEAN construction industries. CSCEC attended the events upon invitation and exhibited a number of industry-leading scientific and technological achievements.
Among them, the exhibition hall of CSCEC, with the theme of "technology lights up the future", is divided into three sections including science and technology, building industrialization, and green construction. The exhibition focused on exhibiting the technologies of the enterprise in green construction, building industrialization, intelligent construction, and other aspects in recent years, as well as the flagship projects in green buildings.
Jingcheng No.1 intelligent jacking formwork system for super high-rise buildings
In the construction model exhibition area, the intelligent jacking formwork system for super high-rise building is known as the skyscraper building machine. It is a large mechanical equipment and operation platform with intelligent control, and it can realize the intelligent construction of super high-rise buildings and is pioneered by CSCEC. At present, the system has been successfully applied in super high-rise projects such as East Tower in Guangzhou (530m high) and Kingkey Finance Tower in Shenzhen (442m high).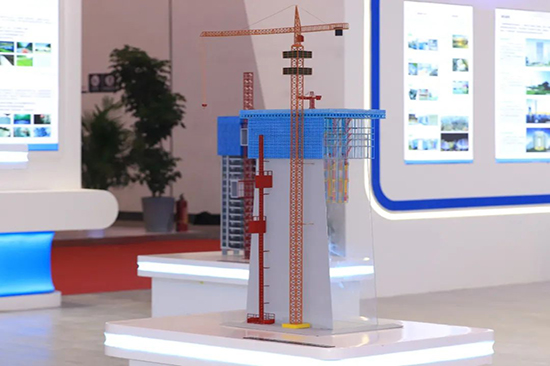 Integrated turnable modular platform for high tower construction
The platform is also known as the bridge tower building machine. It has strong jacking capacity, high degree of automation, flexible adjustment of formwork, strong structural adaptability, and can realize industrial intelligent construction of large bridges and high piers.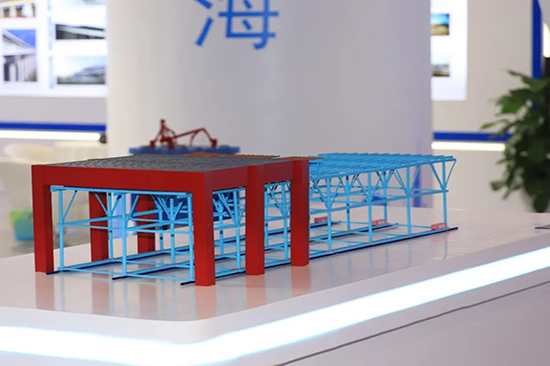 Movable intelligent building machine
The factory on the back is responsible for precise processing, and the front end is responsible for building in a way of "building blocks". The equipment realizes the combination and separation of modulars through lifting. It is fast assembled, safe, reliable, high-quality and environmentally friendly, and can be widely used in reinforced concrete buildings.