Recently, a number of Chinese and international projects constructed by CSCEC have won important awards for their excellent construction performance.
HDB Construction Safety Award 2022
CSCEC's Punggol North Contract 3 project has been awarded the Construction Safety Award by the Housing and Development Board of Singapore for its outstanding performance!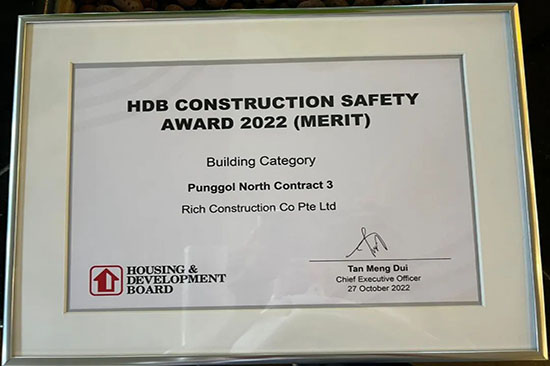 This is a prestigious award that assesses the safety of a project throughout its construction cycle.
Gold award in the outstanding residential community category of Zhan Tianyou Award
18 projects including No.1 Residential Building in Chaoyang District, Beijing, constructed by CSCEC, won the gold award the outstanding residential community category of the China Civil Engineering Zhan Tianyou Award for their "green intelligence".
The project represents the advanced level of residential construction in China. The project consists of 12 residential buildings, underground garage and 5 public buildings, with a total construction area of about 646,500 square meters. The project insists on technological innovation, energy saving to finely build a high-quality residential community in Beijing with craftsmanship.
The highest award in the commercial building category of the Muse Design Awards
The Cloud Mansion Aesthetics Center constructed by CSCEC won the Platinum Winner in the commercial building category and the Gold Winner in the interior design category, the highest awards in the Muse Design Awards.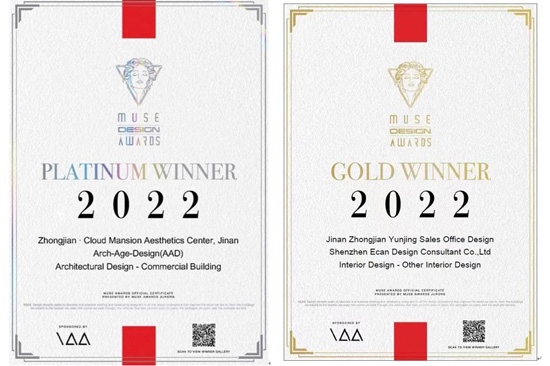 The Muse Design Awards, sponsored by the American Alliance of Museums (AAM) and the International Awards Associate (IAA), is one of the most influential international industrial design awards, which is held annually.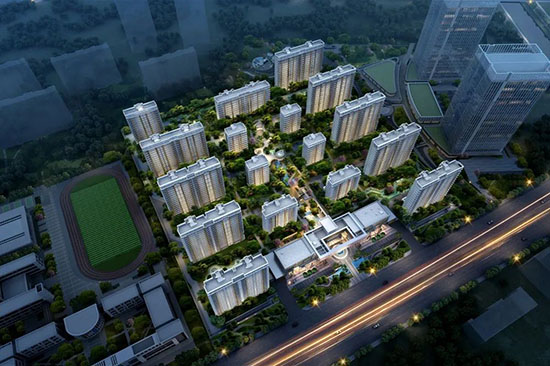 The project is located in the exhibition area of Jinan High-tech Zone in Shandong Province, with well-developed transportation and perfect supporting facilities in the surrounding area. The overall planning of the project focuses on creating an ecological habitat and a park-like community, featuring ecology and low plot ratio.