China-funded project in Cambodia wins the 2022 Global Best Projects Awards
Pubtime:27.10.2022

【Font size:

Big

Mid

Small

】Print
Recently, the China- funded project of Morodok Techo National Stadium in Cambodia won the 2022 Global Best Projects Awards of Engineering News-Record (ENR).
ENR is the world's most authoritative academic journal in engineering and construction. The ENR Global Best Projects Awards is reputed to be the "Oscar" in the engineering industry and recognizes the most internationally influential engineering projects in the world. The selection criteria are extremely strict because the panel not only exams innovative design and construction, aesthetic and environmental protection, engineering quality, project management, and design concepts, but also considers how the project benefits life quality and development potential of the region.
Winners in 18 categories this year include 34 projects located in 18 different countries and regions on six continents. The Morodok Techo National Stadium won the Global Best Projects Awards in Sports/Entertainment and it's the only winner in this category.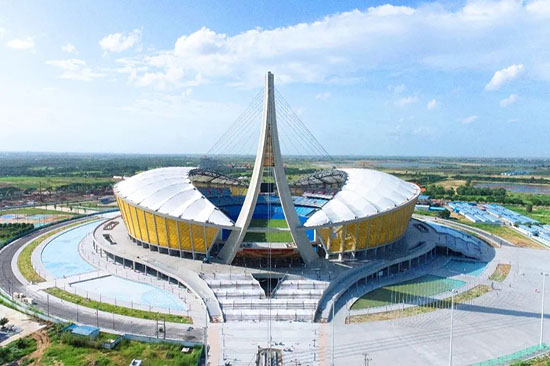 Located in Phnom Penh, the capital of Cambodia, the stadium has a total construction area of 82,400 square meters and hailed as a super-large stadium with 60,000 seats. In the shape of a sailing ship, the stadium integrates elements including the ancient roof ridge and the gesture of "Sampeah" (placing both palms together at the mouth level in a greeting or a way to show respect) into its design and will serve as the main venue for the 2023 Southeast Asian (SEA) Games.