On October 5, 2022, the 15th Arabia Corporate Social Responsibility Awards Gala Night was held at the Hyatt Regency Dubai Creek Hotel. This is the second time for CSCEC ME to win this award. Other winners include General Directorate of Residency and Foreigners Affairs (GDRFA)-Dubai, Dubai Electricity & Water Authority, Roads and Transport Authority, Dubai Public Prosecution, Saudi Telecom Company (STC), Saudi Aramco TOTAL ENERGIES, TotalEnergies, Gulf Petrochemical Industries Company (GPIC), ENGIE, Bank of Africa, Zurich International Life, McDonald,Acer, and Holiday Inn. CSCEC ME Vice President Mr. Zhu Jianchao, Technical Director & Chief Engineer Mr. Mansour Faried, Director of Safety, Supervision, and Administration Department Mr. Alex George and related staff attended the ceremony.
H.E Eng. Sheikh Salem Bin Sultan BinSaqr Al-Qasimi, Chairman of the Ras Al Khaimah Civil Aviation Department, together with Ms. Habiba Al Marashi, President of Arabia CSR Network, presented the award to CSCEC ME.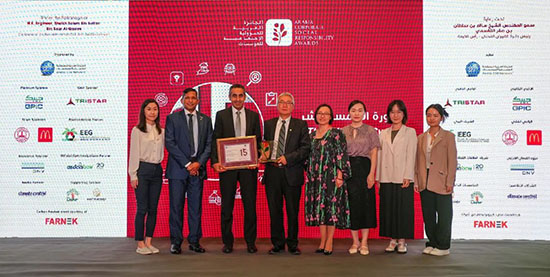 Group photo of participants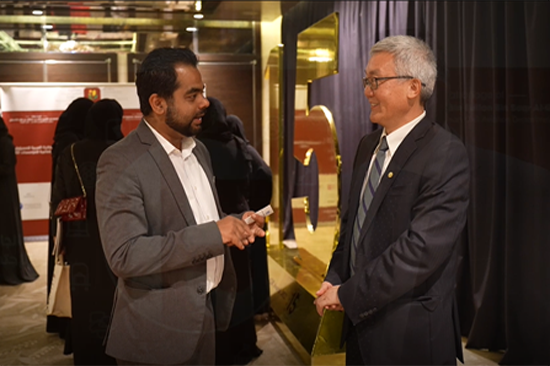 Exchanges after the ceremony
The Arabia Corporate Social Responsibility Awards are established by Arabia CSR Network, a famous sustainable development think tank, and it is considered as an international award with the highest credibility in the Middle East and North Africa. Hailed as the Green Oscar in the Middle East, the award is considered as the benchmark for the sustainable development of the Arabian Region. The award organizing committee takes the UN Global Compact (UNGC) 10 Principles, the Global Reporting Initiative (GRI) Standards, and the European Foundation for Quality Management (EFQM) model as its selection basis and aims at selecting and commendingexcellent government departments, organizations, and enterprises which take corporate social responsibility and contribute to sustainable development. Since the award was announced in 2008, the award has come to its 15th anniversary and the number of its applicants has hit a new high this year, including more than 1,430 companies, institutions, and organizations in 29 industries including public policy, construction, energy, finance, and healthcare from 12 Arabian countries and regions in the Middle East and North Africa.