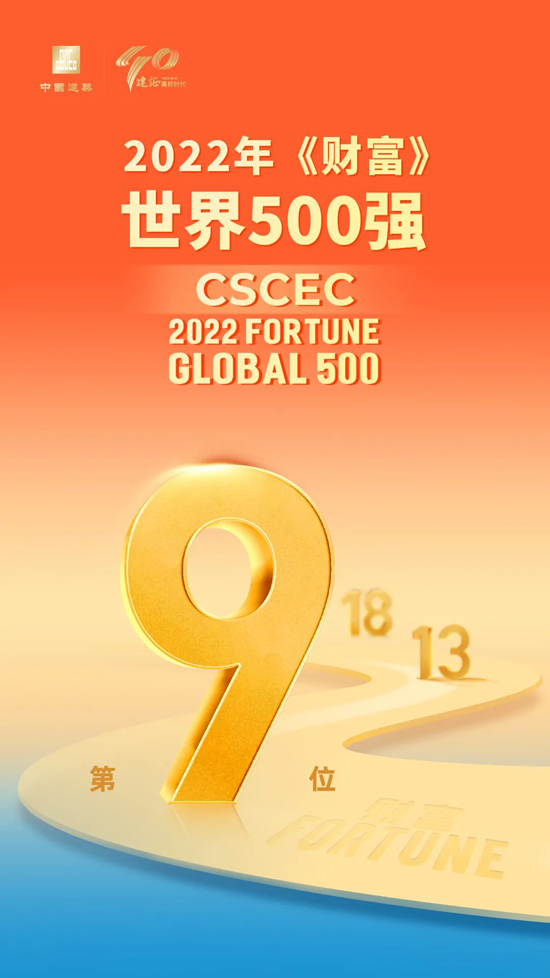 Fortune released the Fortune Global 500 list for 2022 and CSCEC has moved up to the 9th in the list.
For 17 years in a row, CSCEC's ranking among the Fortune Global 500 list has risen steadily, and it has continued to make efforts to create a world-class enterprise.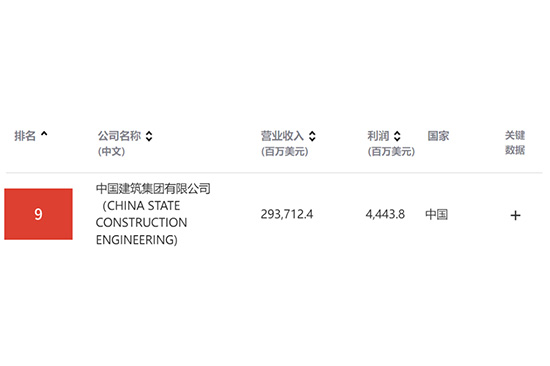 Coordination—Creating value for shareholders
In 2021, the value of newly signed contracts of CSCEC reached RMB 3529.5 billion, the total operating revenue was RMB 1891.3 billion, and the net profit attributable to the shareholders of the listed company was RMB 51.41 billion.
Innovation—Injecting driving force into development
In 2021, CSCEC invested RMB 39.9 billion in R&D and 15 projects won Tien-Yow Jeme Civil Engineering Prize.
High-quality—Perfectly fulfilling contracts for customers
In 2021, 35 projects contracted by CSCEC won the China Construction Engineering Luban Prize.
Greenness—Build a clean and low-carbon world
CSCEC's annual energy consumption per unit output decreased by 4.6% compared with the previous year. It carried out more than 3200 activities that promote environmental protection and organized 522 environmental emergency response drills.
Sharing—Stimulating talent vitality
In 2021, CSCEC invested a total of RMB 31.65 billion in safety production, and conducted training for 4 million person-time on experience exchange of standardized safety production.
Openness—Working with partners
In 2021, the procurement rate of CSCEC reached 100%, and the subcontractor training covered about 1.7383 million person-time, with an investment of RMB 250.3 million.
Happiness—Boosting people's livelihood and well-being
In 2021, CSCEC provided more than 2.4 million jobs for migrant workers, hired 32000 college graduates, and organized more than 8000 volunteer service activities.