CSCEC has ranked 3rd on 2021 Fortune China 500 list for ten consecutive years
Pubtime:20.07.2022

【Font size:

Big

Mid

Small

】Print
Recently, Fortune China website released the 2022 list of China's top 500 companies, which is based on the performance and achievements of China's largest companies listed on stock markets at home or overseas in the past year. CSCEC has ranked third on the list for ten consecutive years.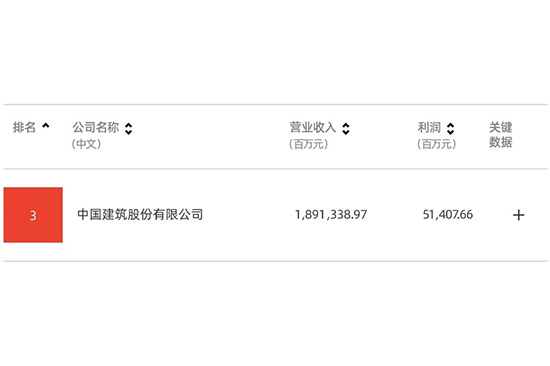 The total operating revenue of China's top 500 companies on the list hits 62 trillion yuan,up about 17.4% year on year. The net profit of the 500 companies reaches 4.7 trillion yuan, up about 9.2% year on year. Compared with the last year's list, companies on this year's list have greatly increased in revenue and net profit. The revenue threshold of this year's list is close to 22.8 billion yuan, increasing by 31% year on year from 17.4 trillion yuan.
As the largest global investment and construction group, CSCEC ranks thirteenth in Fortune Global 500, and has ranked among the top three of the Fortune China 500 for nine consecutive years. In addition, CSCEC ranks first in ENR's Top 250 Global Contractors list and has maintained the highest credit rating in global construction industry for seven consecutive years.