Cameroonian Minister of Public Works visits Ngaoundere-Paro road project
Pubtime:29.06.2022

【Font size:

Big

Mid

Small

】Print
Recently, Emmanuel Nganou Djoumessi, Minister of Public Works of Cameroon led a working group of more than 30 people to visit the Ngandere-Paro (70KM) road project built by CSCEC.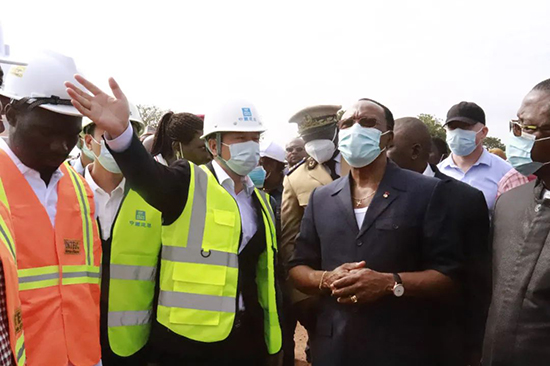 At the construction site, Nganou Djoumessi inspected the structures, pavement structure layers, bridge foundations, etc., and specially checked the production of the project site. After listening to the report, he approved the project's aggregate replacement plan on the spot. The minister inquired about the social, environmental, safety and other aspects of the project in detail, and gave detailed suggestions on project data collation, quality control, and progress management, and asked relevant departments to assist the project team to solve the relocation problem, to facilitate the construction in the next step as soon as possible.
The Ngaoundere-Paro (70KM) road project in Cameroon has a total length of about 70 kilometers. The project includes earthwork, laterite aggregate sub-base, graded gravel base, asphalt pavement, drainage works, ancillary structures and a 30-meter long and 11-meter wide bridge. Once completed, the project will promote economic and trade exchanges between Cameroon and Nigeria, further improve the transportation network in Cameroon's Adamawa Region, and improve the living standards of residents along the route.