China's first museum themed on ice and snow and Winter Olympics completed
Pubtime:09.02.2022

【Font size:

Big

Mid

Small

】Print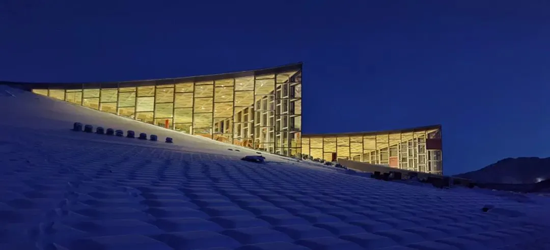 Recently, the first bid section of the Chongli Overseas Chinese Ice-Snow Museum, constructed by CSCEC, was completed in the main city of Chongli, Zhangjiakou, and has now entered the test stage. This is an important support project for the 2022 Winter Olympics to showcase the development of ice and snow sports during the event. The museum is the first museum in China with the theme of ice and snow and the Winter Olympics, and is one of the important cultural heritage projects after the 2022 Winter Olympics.
The Chongli Overseas Chinese Ice-Snow Museum mainly consists of six halls: the Preface Hall, the World Winter Sports Hall, the China Winter Sports Hall, the Winter Olympic Sports Hall, the 2022 Beijing Winter Olympics Hall, the Temporary Exhibition Space and the Winter Sports Experience Area. The building has a total floor space of about 24,000 square meters. Among them, the ice and snow museum is 6,861 square meters, and the library is 5,414 square meters. It is surrounded by a plaza covering an area of more than 38,000 square meters.
The museum will be an important base to promote winter sports and snow culture research. It will be a venue for people to watch the games and hold celebrations. It will be an civic & leisure center after the Olympics.