Three major venues for the 19th Asian Games Hangzhou 2022 completed
Pubtime:08.04.2021

【Font size:

Big

Mid

Small

】Print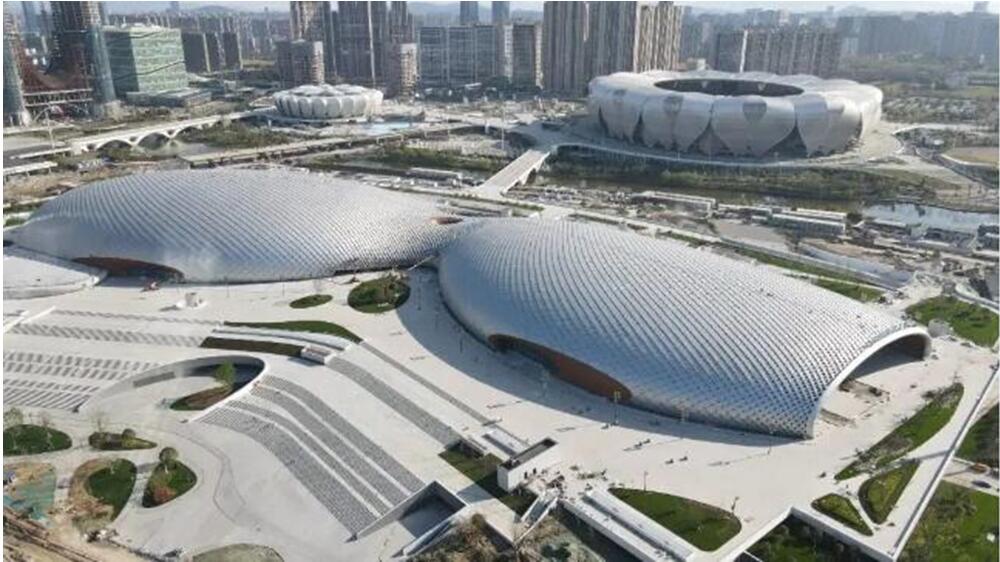 Recently, the three major venues for the 19th Asian Games in Hangzhou , which was invested and built by CSCEC, was officially completed and delivered.
The three major venues, including the main arena, the aquatics center, and the comprehensive training center, are the crowning touch of Zhejiang's Greater Bay Area Era and a new landmark of Hangzhou.
The main arena can accommodate 18,000 seats in which basketball, badminton, volleyball and other competitions can be held; and the aquatics center can accommodate 6,000 seats, in which the competitions of swimming, diving and synchronized swimming will be held during the Asian Games.
With the theme of "galaxy phantom", the floodlighting of the night scene of the venues vividly renders the Asian Games venues at night by displaying different lighting works, showing a beautiful galaxy night scenery.
The floodlighting of night sceneries of the venues also shows the ingenuity of "green intelligence" in technology. LED point light source is set in the hole of the double-deck roof system of the aquatics center, forming the light transmission effect. At the same time, high-power flood lights are used for color rendering on the outer contour surface of the building, and different lighting effects are displayed in combination with the lighting control system.