Recently, the last block of Shanghai Ruihong New City, Ruihhong 167 Blocks development project, constructed by CSCEC, passed the completion inspection, marking the successful conclusion of the renovation of the Hongzhen Old Street area, the largest city renovation project in Shanghai.
The Hongzhen Old Street area, located in Jiaxing Road, Hongkou District, was once the largest shanty town in Shanghai, and at the end of 1996, the area started to transform into the 'Rui Hong Xin Cheng', a 10-phase project with a total construction area of 1.72 million square meters. Since 2007, CSCEC has been working on seven blocks with a total construction area of 1.05 million square meters.
In the construction of the projects, CSCEC applied many new technologies and materials.
The main structure construction applied the concrete in mass temperature measurement technology and deep foundation pit monitoring technology, and the material transportation adopted the jump lift, which was four times faster than the normal construction lift at that time. The external walls were constructed with concrete small hollow blocks and the masonry materials were autoclaved aerated concrete blocks to improve the earthquake-proof and thermal insulation performance of the building.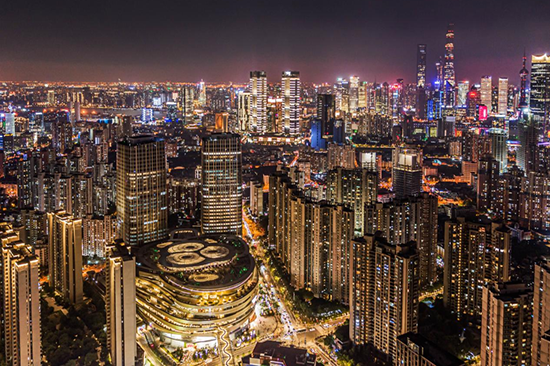 The projects are ahead of the time in terms of building energy-saving, commonly using EPS insulation systems and energy-saving doors and windows to effectively reduce heating and cooling energy consumption; adopting water recycling and rainwater collection systems to save building water consumption significantly.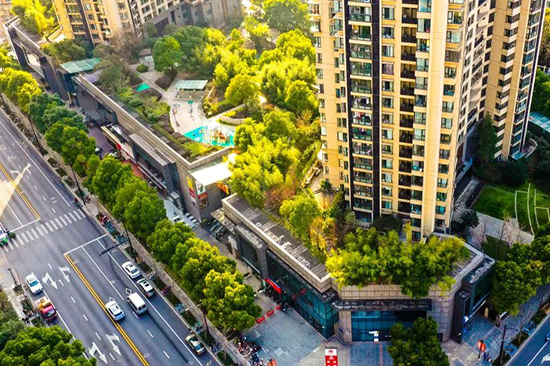 Among the projects, the vertical greening system employed at Ruihong New City Mingting project is the predecessor of the 'green roof' now strongly promoted in Shanghai. The project has an overall energy-saving rate of over 65% and has been awarded the certification of China's green building label (2-star). 2021, the Ruihong Tiandi Sun Palace (Hall of the Sun) project was awarded the US LEED gold certification.