Senegalese Minister of Sports visits and gives a thumb-up to CSCEC-undertaken rehabilitation works on four Senegalese stadiums
Pubtime:07.02.2023

【Font size:

Big

Mid

Small

】Print
It was reported by Senegalese media platform lesoleil.sn that Senegalese Minister of Sports and some other officials visited and commended CSCEC-undertaken rehabilitation works on four Senegalese stadiums and the minister expressed that the project will help Senegal become the sports center of Africa and greatly benefit the country and its young people.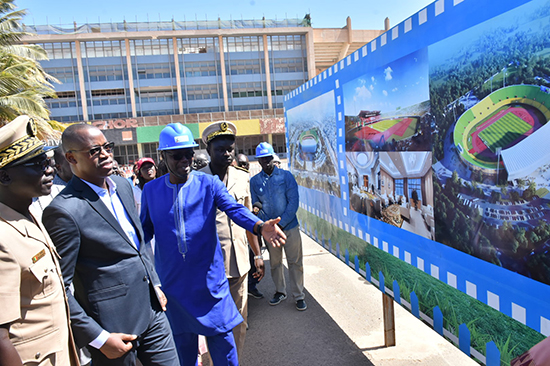 The rehabilitation works on four Senegalese stadiums is the largest one carried out by a Chinese enterprise in Senegal since the beginning of this century. The project consists of the rehabilitation of four stadiums including Leopold Sedar Senghor in Dakar, Aline SitoeDiatta in Ziguinchor, LamineGueye in Kaolack and Ely Manel Fall in Diourbel. The work specifically includes the rehabilitation, upgrading, and renovation of outdoor projects, sports facilities, decorations, as well as electrical and mechanical systems and equipment.
After rehabilitation, the Senghor Stadium will become a large one with complete functions and professional facilities and will be the venue for the 2026 Youth Olympic Games, and the other three stadiums will become regional ones for local people to do sports.
The project commenced on August 15, 2022 and is currently progressing in an orderly way.