The No.1 National Highway project in the Republic of the Congo successfully passes final acceptance
Pubtime:03.02.2023

【Font size:

Big

Mid

Small

】Print
Recently, the No.1 National Highway project in The Republic of the Congo, constructed by CSCEC, passed the final acceptance.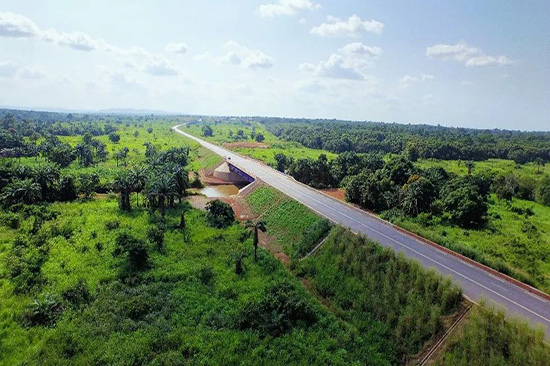 The 535-kilometer-long No.1 National Highway in the Republic of Congo, starts from the port city, Pointe-Noire and links key cities such as Dolisie and Nkayi, finally reaching the capital Brazzaville, which is the main economic artery of the country and is known as the "dream road" in the transport history of the country. The construction of the project started in 2007 and was officially opened to traffic on 1 March 2016.
The construction of the project made great efforts to the protection of the Mayombe Forest. To prevent soil erosion, the slopes of the sandy soil section are protected by vetiver grass and the design of the water impounded-evaporation pond, energy dissipation pond is upgraded and the water outlet is optimized by stacking dissipative stones.
During the construction period of the project, roads were repaired and wells were accessed for the villages along the route. Besides, the construction team also donated learning and sporting supplies to the schools, actively fulfilling its social responsibility.
After the opening to traffic, more than 90% of the important goods imported and exported in the country are transported to the port of Pointe-Noire via this road. At the same time, due to the significant reduction in transport time and costs, some small markets along the route have developed spontaneously, bringing increasing income for the residents.