A visit to photovoltaic power station in Dalate, Inner Mongolia
Pubtime:18.10.2022

【Font size:

Big

Mid

Small

】Print
In Dalate Banner, Ordos City, Inner Mongolia Autonomous Region, flower-shaped photovoltaic panels are always moving with and facing the sun. The solar farm in Dalate is the world's largest centralized photovoltaic project in desert. With the average sunlight duration of more than 3,000 hours per year, the project has sufficient sunlight. The staff improved power generation efficiency through scientific and technical innovation and created a photovoltaic desertification control project to plant crops and herd sheep and cattle below the panels.
The double-glass photovoltaic panel, a leading technical product in the photovoltaic industry, is part of the project. Compared with those of the same specification, electricity generation on the back of the panels can be increased by 10% to 15%. Electricity generation efficiency is the highest when sunlight is perpendicular to the photovoltaic panels. In order to maximize generation efficiency, the project team installed drive shafts under the panel supports, calculated the angle and the real-time movement of sunlight, and set up an automatic program to control the drive shafts, allowing the photovoltaic panels to follow the sun.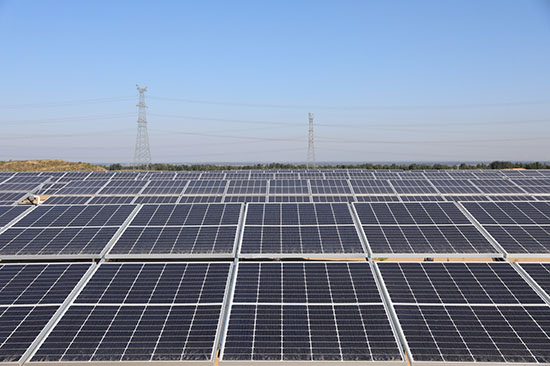 After optimizing the design, the generation efficiency is increased by about 20% with the solar energy conversion efficiency one fifth higher than the industry average. In a 25-year-long economic service life, the project will save about 692,100 tons of standard coal, reduce the annual emission of carbon dioxide by about 73,887 tons, and reduce the emission of sulfide by about 563 tons and nitrogen oxide by about 190 tons, equivalent to planting 201 hectares of trees.