Themed "Cooperate for Better Development, Innovate for a Greener Future", the 2022 China International Fair for Trade in Services (CIFTIS) was held in Beijing from August 31 to September 5. Six subsidiaries of CSCECparticipated in the engineering consulting and construction services section to show the technical strength and service capability of CSCEC in green building technology, intelligent equipment, intelligent site management and intelligent integrated system. The following are several fantastic projects.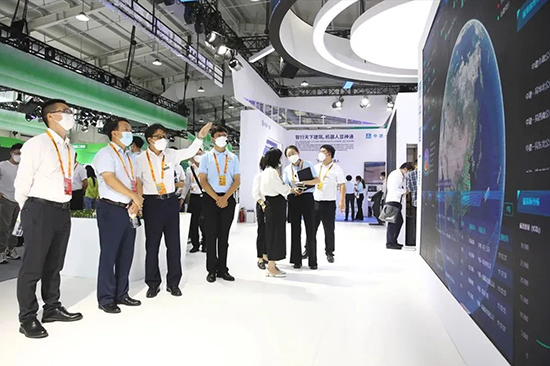 Metaverse low-carbon town
With energy-saving materials and green technologies such as natural ventilation and lighting, rainwater collection, and photovoltaic building, visitors can immerse themselves in the experience of building an ecological home.
Intelligent construction robot
The construction management robot"X-MEN" witha display can guide and inspect construction work, which is the first in-situ digital technology based on accurate positioning in construction sites.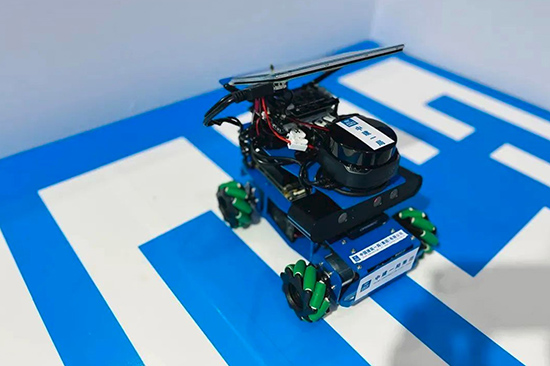 The tunnel robot can realize remote inspection and control, and complete unmanned operation of tunnel perforation. The vision recognition technology and sensor technology can make the robot to intelligently plan its work and monitor the quality of the borehole operation in real-time, and the operation efficiency is 8 times of manual work.
The inspection robot can complete regular inspections at the construction site. By building a 5G network platform through a camera, it can complete obstacle avoidance operations, analyzedangers, and is more accurate and reliable compared to human eyes.
Jiuhe Palace
As a representative project of the urban community section, it applies eight ultra-low energy consumption technologies such as efficient renewable energy utilization and high-performance building envelopeto create a new experience of green living and construct a livable benchmark community in the new era.
Xidan Cultural Square Upgrading Project
It is a representative project of the urban renewal section. It has effectively optimized the original subway channels and significantly improved the green area of the square.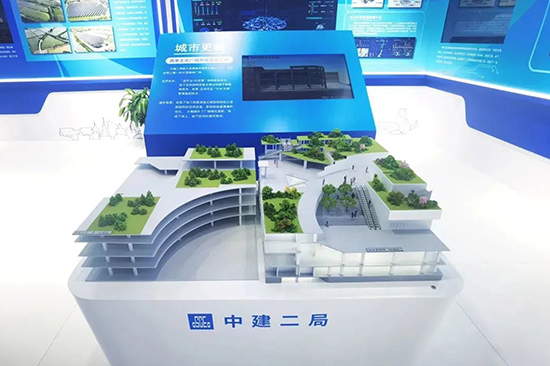 "Zero elevation house"
The project creates a comfortable and livable houseat high-altitude areas with modular designs. It can be freely combined to adapt to various scenarios and realize energy self-sufficiency by taking advantage of light energy at high-altitude areas.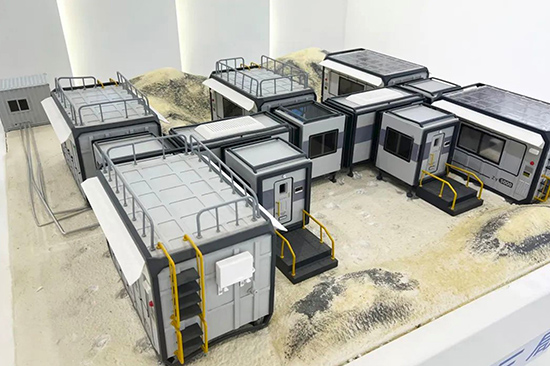 The exhibition hall also showcases CSCEC's technical strength and service capability in the field of engineering and construction, such as the world's first intelligent construction platform for prefabricated building, the largest prefabricated public housing in China, the mobile data center, and the world's first PEDF building.
Compared with traditional construction methods, modular construction enables 90% of the mechanical and electrical equipment, piping work, furniture, decoration and curtain wall of each room to be prefabricated in the factory and transported to the site for direct installation.
Seismic isolation technology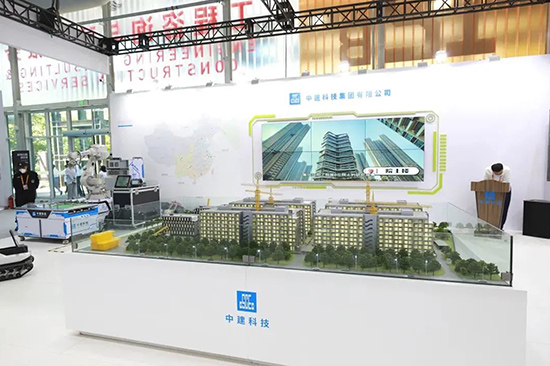 By installing seismic isolation devices, such as rubber bearings and dampers, between the foundation or the lower structure of the building and the upper structure, the seismic energy input to the upper structure is reduced to 1/4~1/8 of the original caused by the earthquake.