A foundation slab with the largest concrete pouring volume in Africa! Recently, the launching ceremony of the foundation slab concrete pouring of the Iconic Tower of CSCEC-built Alamein New City Downtown Towers Project was held. Many guests from China and Egypt attended the ceremony and witnessed this big moment.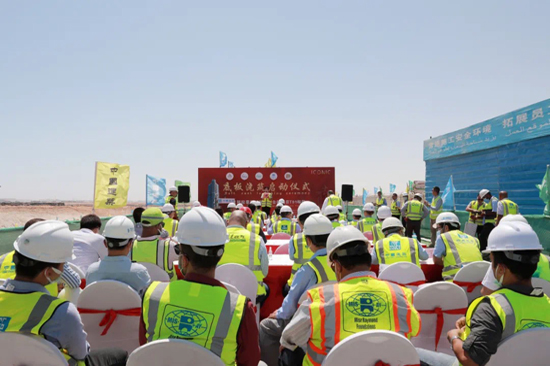 The concrete pouring is divided into two stages. With the total concrete pouring volume of about 19,683 cubic meters, the first pouring volume is about 5,632 cubic meters and the second is about 14,051 cubic meters. With a strength grade of C60 and an average thickness of 4 meters, the foundation slab is the largest one so far in Africa. The ceremony marks that the project has entered a main-structure-constructing phase.
Assem Elgazar, Minister of Housing, Utilities and Urban Communities of Egypt expressed his sincere thanks to all the builders in his address and highly praised the fast speed and the good quality presented by the CSCEC project team. After the ceremony, Minister Assem Elgazar once again expressed his gratitude by messages for CSCEC's excellent performance of the Alamein New City Downtown Towers Project.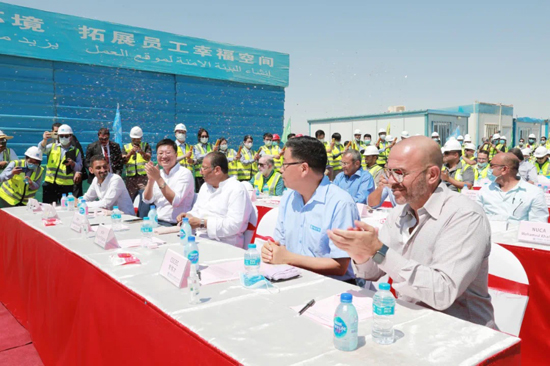 In concrete pouring, the project team use 6 concrete mixing stations in the supply phase, more than 40 concrete mixers in the transportation phase, and 6 concrete pump trucks in the pouring phase. Besides, the project team sets many groups which are in charge of stations, testing, pouring, transportation, comprehensive support, and operation under precipitation conditions so as to ensure the smooth progress of the pouring this time.
In the preparatory work of pouring this time, the project team overcomes difficulties in earth work excavation of the deep area of the core tube and in the pile tip chiseling, thus successfully promoting the foundation slab construction. The project team has carried out the earthwork excavation for three times and eventually a magnificent and beautiful foundation pit appears in the shape of a flower with three petals.