CSCEC contributes to relocation of a hundred-year-old house for 75 meters
Pubtime:04.08.2022

【Font size:

Big

Mid

Small

】Print
Recently, the CSCEC builders in Xiamen City, Fujian Province moved an old house with a history of nearly one hundred years, and they relocated the house for 75 meters without damaging any piece of brick or tile.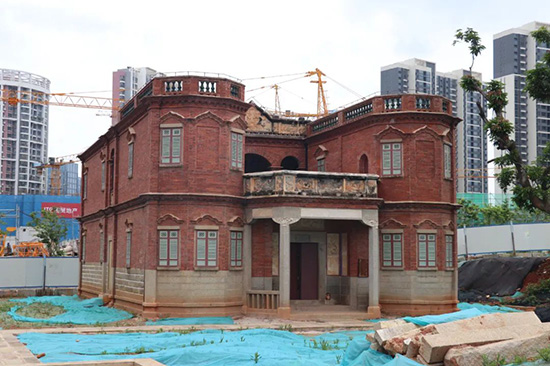 The project is to relocate and to repair Wang Qingxiang's house, a two-floor brick-concrete house with a history of nearly one hundred years. To meet the renovation requirements of the city, the project team relocated the house as a whole to protect it, and repaired it after relocation.
The builders adopted the "walking relocation plus remote-sensing monitoring" method. In order to separate the house from the ground, the builders dug a foundation pit around the moving range and support the about 449-square-meter-large and 950-ton-heavy house with steel. In addition, the builders installed 70 sets of walking relocation equipment at the junction of the bottom and the track as well as reinforced the outer structure so as to move the house forward along the track.
Given the long moving distance and plenty of movements, the project team adopted a modern Internet information transmission means to monitor main stressed components in real time and to transmit various project data in the relocation process in real time.
Eventually, the house is rotated accurately 135.76 degrees and moved southwest for 26.17 meters to its new address, and it was lowered by 1.55 meters to accurately connect to the foundation on the new address.