458-meter-high under-construction building in Chongqing capped
Pubtime:27.06.2022

【Font size:

Big

Mid

Small

】Print
Recently, the main building of CSCEC-built Land and Sea International Center in Chongqing was capped. With a total construction length of 458.2 meters, the main building becomes the highest one under construction in Chongqing.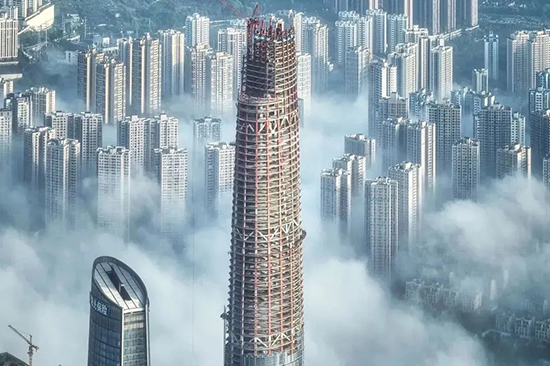 With a total construction area of 524,100 square meters, the Land and Sea International Center in Chongqing, a super-large complex integrating business and office functions, consists of a 458-meter-high building, a 181-meter-high additional building, and a 100,000-square-meter-large podium.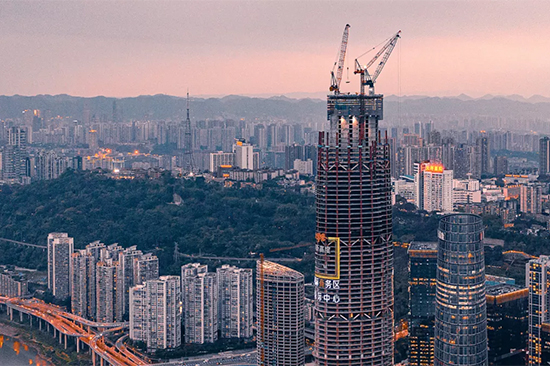 The project team achieved synchronous operation of multiple types of construction including steel structure installing, steel bar binding, and concrete pouring through CSCEC-developed 1,500-ton-heavy skyscraper-building machine (an integration platform of intelligent construction equipment for super-high buildings). The machine can realize fully-automatic and synchronous deviation correction with the planar margin of error less than 3 millimeters and provide a 1,415-square-meter-large constructing area, which significantly improves construction efficiency and helps construct a floor in as little as 3 days.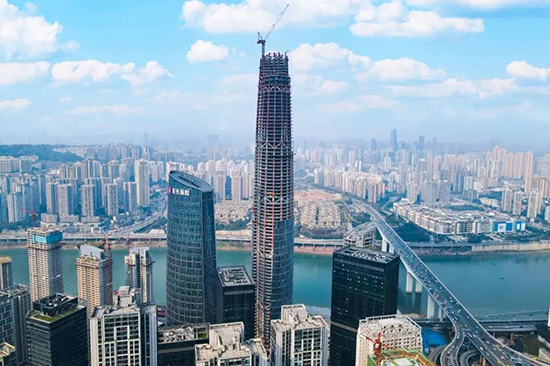 The project team adopts two largest tower cranes with the largest hoisting weight of 100 tons, which can easily hoist materials including steel bars, concrete, and glass curtain walls up to places hundreds of meters high, thus effectively solving the problem of material transportation.
The steel structure consumption of the project is about 70,000 tons, which is equivalent to the weight of 7 Eiffel Towers.