Fortune magazine on August 10 announced the 2020 list of Fortune 500 corporations. CSCEC jumped to 18th on the list, continuing its annual rise over the past 15 years and marking the company's continuous efforts to transform into a world-class enterprise.
Rank 18 in the 2020 Fortune 500
As one of the world's largest investment and construction group, CSCEC is the industry leader in housing construction, infrastructure construction and investment, real estate development and investment, and survey and design. CSCEC is one of the most powerful investors in China. Its main investment direction is real estate, infrastructure, comprehensive urban construction and other fields. The Company strengthens the integration of internal resources and business collaboration to provide all-round, whole-process and all-factor services for urban construction and operation through "four in one" business model of "planning and design, investment and development, infrastructure construction, housing construction engineering". CSCEC is one of the world's largest engineering contractor. The business scope of CSCEC covers all areas of urban construction and all stages of project construction. CSCEC has the comprehensive design capability, construction capability and land development capability across the country. The Company has a complete industrial chain of construction projects, covering project technology research and development, survey and design, property development, engineering contracting, equipment manufacturing and property management, etc. It has constructed most of the super high-rise buildings that are over 300 meters high and plenty of buildings with high technical content and complex structure in China.
Rank History

Main data

Net profit attributable to listed companies

RMB41.88billion

Earnings per share

RMB0.97

Value of newly-signed contracts

RMB2,868.9billion

Operating income

RMB1,419.8billion

Total profit

RMB81.47billion

Annual investment

RMB406.0billion

The First prize of the National Science and Technology Progress Award

1

Tien-Yow Jeme Civil Engineering Prizes

6times

Annual granted patents

4,446

China Construction Engineering Luban Prizes

28projects

National Quality Project Awards

64projects

Quality training sessions

3,166

Decrease in energy consumption per unit of output value year on year

5.6%

Environmental impact assessment rate of new projects invested reached

100%

Quality training participants

21,000Person-time

Employees on-post

335,038

Employee Training

1,291,708person-time

Investment in employee training

RMB 500million

Jobs provided for migrant workers

1.70million

In 2019, we had

24,377overseas employees
Accomplishment in core businesses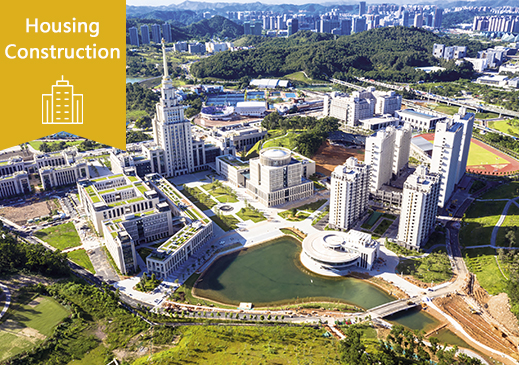 Shenzhen MSU-BIT University project
CSCEC gives full play to the competitiveness of the whole industrial chain. With absolute advantages in the field of housing construction contracting, CSCEC aims to develop the mid- and high-end markets, and adheres to the marketing strategy of "big proprietors, big markets, big projects" and the corporate operation strategy of "low-cost competition, high-quality management". CSCEC has taken a series of measures such as continuously tapping its own potentials, implementing strict control of engineering quality and construction cost, and seeking high customer satisfaction so as to provide domestic and overseas customers with one-stop comprehensive services including design, construction and implementation of various high-tech, large scale, high-precision, and advanced buildings. The Company has constructed lots of difficult projects in civil construction, industrial construction, national defense construction and many other areas. It has also constructed plenty of landmark buildings such as skyscrapers, large venues, airport stations, hotels, hospitals, etc., representing the highest level of housing construction in China. CSCEC is a leader in housing construction in China and across the world.
Lekai Street Swivel Cable-stayed Bridge across Beijing Guangzhou Railway project in Baoding
With a vision on engineering construction and investment, by leveraging advantages in technology, talents and management, we completed a great number of representative infrastructure projects both at home and abroad. These projects cover areas of underground rails, high-speed railways, mega bridges, expressways, urban integrated pipes and corridors, ports and channels, power, mining, metallurgy, petrochemical engineering, airports and nuclear islands. Relying on enormous capital strength, we have quickly turned into China's top player in infrastructure investment and financing. We invested in and constructed a large number of national and regional key projects and built our credit in BT, BOT, PPP and other investment and financing modes. At present, CSCEC has established long-term strategic cooperation relations with several provinces (autonomous regions), municipalities and several dozens of key cities in infrastructure investment and construction.
Zhonghai Huashan Longcheng (Jinan) project
CSCEC owns two real estate brands - China Overseas Land & Investment Ltd. (COLI) and China State Construction Land (CSC LAND). COLI is the brand name of the real estate business sector of China Overseas Holdings Limited (COHL). It has ranked first in terms of brand value among Chinese property enterprises for many years. The brand has developed property development business in dozens of economically active cities in the Guang dong-Hong Kong-Macao Greater Bay Area, the Yangtze River Delta and the Beijing-Tianjin-Hebei Region in China, forming a balanced and robust business layout across the country. The Company leverages the comprehensive advantages of its subsidiaries in investment and construction to make the effective synergy of property development and other businesses such as engineering construction, infrastructure investment, and urban and rural construction. Moreover, the Company steps up efforts to develop business in areas where the headquarters of subsidiaries are located and areas where CSCEC has traditional advantages and improves product design, development and service quality. All these endeavors manifest the brand effect of CSCEC property brands and gradually foster strong competitiveness in the industrial chain.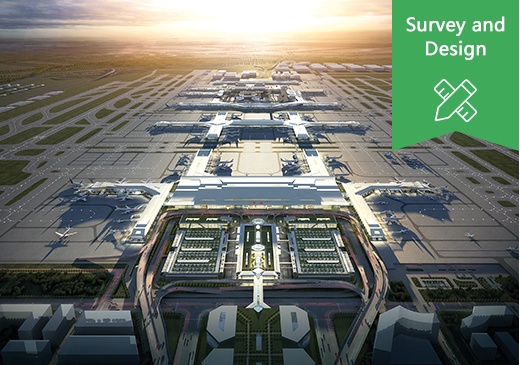 Xianyang International Airport Phase III Expansion project in Xi'an
The survey and design sector of CSCEC is mainly composed of seven large-scale survey and design enterprises with Grade-A design qualifications, which covers businesses in areas such as construction design, urban planning, engineering survey and municipal public engineering design, and ranks top in China in areas such as super high-rise buildings, airports, hotels, sports architecture, exhibition buildings and ancient buildings. The Company has nearly 10,000 professional and technical personnel in the fields of construction engineering design, municipal engineering design, engineering survey and rock-soil, with the total number of high-end professionals ranking top in the industry. The Company has made important contributions to the development of the industry in terms of design originality, technological innovation and standardization.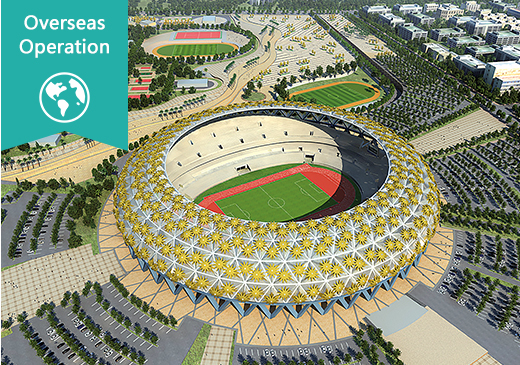 Ethiopia National Stadium project
CSCEC is the earliest industry brand in China to carry out the international engineering contracting business.Adhering to the operation philosophy of "internationalization", CSCEC has formed a relatively rational overseas market layout through decades of overseas market development and operation. The overseas engineering contracting businesses of CSCEC cover various areas such as housing construction, manufacturing, energy, transportation, water engineering, industry, petrochemical, handling of hazardous materials, telecommunications, sewage/waste treatment, etc. CSCEC has explored and successfully carried out overseas property development. In terms of project operation, apart from the traditional mode of general contracting, the Company has also actively explored project operation modes such as general contracting driven by financing and investment, DB, EPC, BOT and PPP. Meanwhile, the Company has actively promoted capital operation ways such as merger and acquisition, striving to realize substantial leapfrog development of overseas core business. The Company will continue to promote the strategy of "overseas development", enhance the localized operation and resource integration, implement the Belt and Road Initiative, and explore overseas development to advance international operation with a stronger sense of mission, more ambitious target and higher positioning.
Construction, Operation & Maintenance of Huoshenshan Hospital and Leishenshan Hospital

Several days before the Spring Festival, the COVID-19 pandemic broke out. On January 23, 2020, requested by Hubei Province and Wuhan City, China Construction Third Engineering Bureau CO., LTD undertook the construction of Huoshenshan Hospital, which was designated to receive coronavirus patients. Two days later, China Construction Third Engineering Bureau CO., LTD was assigned to independently build the Leishenshan Hospital. The company was confronted with high construction standards, a short construction period, great pressure of on-site safety and pandemic prevention, lack of migrant workers during the Spring Festival Holiday, factory shutdown, and obstacles that arose during the lockdown of Wuhan such as personnel allocation,materials procurement and equipment dispatch, etc.

Large-scale machinery on the construction site

Construction, Operation & Maintenance of Huoshenshan Hospital and Leishenshan Hospital

To help the company accomplish the two major projects, Zhou Naixiang, Chairman of China State Construction, Chairman of CSCEC, and Zheng Xuexuan, General Manager of China State Construction, Director and President of CSCEC, hurried Wuhan in time for frontline command and field guidance. CSCEC paid great attention to the deployment and assigned over 4,000 employees from 11 affiliated companies to support the construction of the two hospital projects, including China Construction First Group Corporation Limited, China Construction Second Engineering Bureau Ltd., China Construction Fourth Engineering Bureau CO., LTD, China Construction Fifth Engineering Division Corp.,Ltd. (CCFEB), China Construction Seventh Engineering Division Corp., Ltd., China Construction Eighth Engineering Division Corp., Ltd. (CCEED), China State Decoration Group Co., Ltd., China Construction Science and Industry Corporation Ltd., China Construction Industrial & Energy Engineering Group Co., Ltd.(CCIEE), China West Construction Group Co., Ltd., and China Construction Science & Technology Co., Ltd.

The construction site of the Leishenshan Hospital

Construction, Operation & Maintenance of Huoshenshan Hospital and Leishenshan Hospital

As the major construction unit of the two hospitals, China Construction Third Engineering Bureau CO., Ltd. established a leading group for the emergency project construction immediately after being assigned the projects, formulated the hourly works schedule, and organized work shifts on an hourly base, realizing simultaneous planning and design, plan compilation, on-site construction and resource allocation. The company organized nine subsidiaries to support the projects and allocated over 2,500 sets of large-scale equipment and transportation vehicles, over 5,000 shipping containers, and over 4,000 management personnel and about 35,000 operational personnel to ensure 24-hour construction. The BIM technology and the prefabricated construction technology were adopted to ensure safe and highly efficient construction. In the end, the construction of the Huoshenshan Hospital was completed within 10 days and nights while the construction of the Leishenshan Hospital was completed within 12 days.

Large-scale machinery on the construction site

Construction, Operation & Maintenance of Huoshenshan Hospital and Leishenshan Hospital

The construction progress of the Huoshenshan Hospital and the Leishenshan Hospital was paid great attention to by the country and even the whole world. With the 5G signal, mainstream media such as CCTV and People's Daily broadcast the 24-hour construction scenes. Nearly 100 million people watched the live broadcast at the highest point. The live broadcast and news reports of CSCEC also received tens of millions of views.

The construction site of the Leishenshan Hospital
Promoting Technological Innovation
Technological innovation is the driving force for the high-quality development; the high-quality development cannot be achieved without technological innovation. Carrying forward the spirit of science and craftsmanship, CSCEC is committed to establishing a technological innovation system that is enterprise-oriented, market oriented, and deeply integrated with industry, universities and research institutes, to make more iconic and influential independent innovation achievements and to foster new driving forces for development. In 2019, the R&D investment of CSCEC was RMB 21.87 billion. The Company had 84,200 employees in intermediate technical positions and above, accounting for 25% of the total number of employees.
Leading Industrial Development
CSCEC advocates fair competition and protects the normal development order of the industry. We have actively participated in national and industrial development research, planning and standard formulation, promoted industrial structure upgrade, and made a crucial breakthrough in R&D and manufacturing of major equipment, R&D of high performance building materials, in-situ 3D printed buildings, the horizontal rotating movement of large buildings, and aerial rotating movement of ultra-long cable-stayed bridges, etc., forming some global leading achievements and becoming a leader in industrial technology development. In 2019, we participated in the preparation of six compulsory national standards as a chief editorial unit, and compiled and issued one national standard.
Green Construction
SCEC has developed a series of green materials and green building technologies for the construction of a comprehensive green building operating platform that covers the whole lifecycle of "investment, construction and operation". Through the construction of demonstration green construction projects, we have effectively reduced the production of various pollutants and the impacts of the construction processes on the environment. The Eco-Smart City project developed by China Construction Fifth Engineering Division Corp., Ltd. (CCFEB) won the Global Human Settlements Award Planning and Design, the first residential project within the Eco-Smart City, CSCEC·No. 1 Mansion project, won the Global Demonstration Green Community Award, and China Construction America (CCA) was ranked 53rd among the list of ENR 2019 Top 100 Green Building Contractors.
Safeguarding Employee Rights and Interests
Strictly abiding by relevant laws and regulations of the country and the national market, CSCEC continues to improve the various rules and regulations concerning employees. Adhering to equality and diversity in recruitment, we have improved the remuneration and benefits system as well as the assessment system of employees, built a democratic management platform, and truly responded to expectations and demands of employees, comprehensively protecting the legitimate rights and interests of employees. Besides, we have formulated the Public Records Management Measures to stipulate restrictions on the access to public records of employees, thus protecting the privacy of employees.